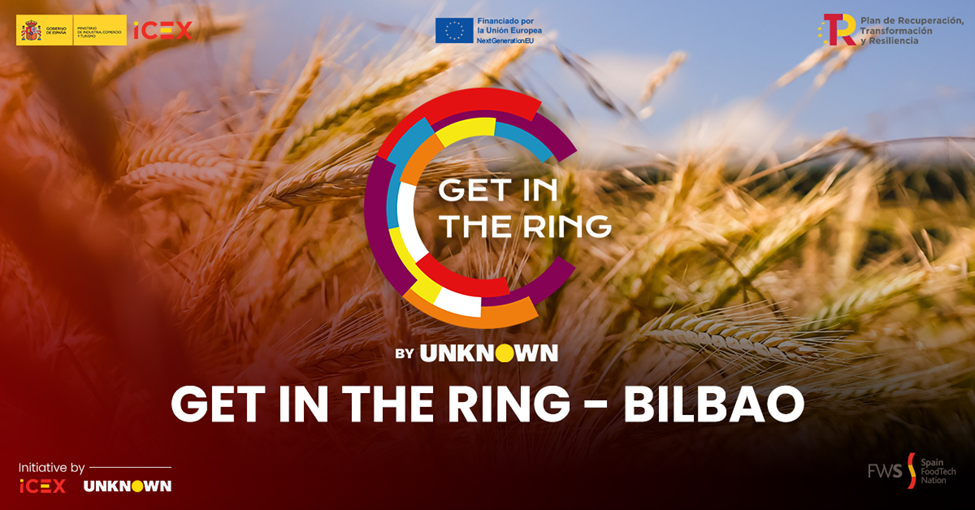 GET IN THE RING
Food 4 Future gives your startup the opportunity to participate in  a global competition like Get in the Ring
Get in the ring is active in over 200 cities which showcases unconventional solutions from starutps. You will have the chance to prove your solutions and your ability to solve 21st-century challenges. Get in the ring works alongside industry-leading partners and support the scale and impact that startups make across the globe.
The boxing ring-style pitch competition comes to Bilbao on the 17th and 18th of May during the Food4Future Summit. The team of Get in the Ring together with ICEX organizes the first edition of Get in the Ring Bilbao.
Are you a Corporate Innovator, Industry Expert, or Investor? Do you want to become part of the thrilling event and help us choose the finalists that will get in the ring? Apply to be one of the partners that will have 1-on-1 meetings with the startups and evaluate them based on their scalability. The two best startups, chosen by you and the other partners, shall rhetorically battle each other in a boxing-style ring, before the audience of Food4Future!
Confirm your interest in participating as a Matchmaking Partner in Get in the Ring Bilbao.
Application deadline has been extended until 11th May 18:00. 
Please note this invitation is not intended for startups but for Corporate Innovators, Industry Experts, or Investors who wish to meet startups.
MATCHMAKING DAY
Matchmaking is a concept in which we bring startups together with relevant partners in 20 to 30-minute one on one meetings. This gives the startups and the partners the opportunity to get to know each other and discuss if they can provide value to one another.
This event will happen on 17 May from 10:00 to 13:00
In case you are selected, the Get In The Ring team will contact you and provide more details about your role. Obviously, you will also be invited for the Get in the Ring battle where the best will fight for the win!